MCL to Showcase New Invisio Intercom System At DSEI
Published 10th September 2019
Marlborough Communications Limited (MCL) will be launching the most advanced platform intercom system yet to the market at this year's DSEI exhibition in London (10-13 September).
Produced by Invisio and exclusively available in the UK through MCL, the new intercom system bridges the gap between the mounted and dismounted soldier. The first of its kind, the system allows operatives to personalise exactly what it is connected to and how many users are accommodated on it.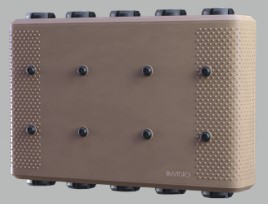 Due to its extensive flexibility and modularity, the intercom can be carried on the go between platforms or permanently fixed, and it can be integrated to any platform with minimal effort. It is lightweight and unparalleled in size, letting troops move seamlessly between platforms without losing communications.
With the Invisio intercom the soldier can access all land, maritime or air communications directly from their Invisio control unit. There is no need for the soldier to remove or connect to other control units when mounting or dismounting from a platform.
In addition, soldier-worn control units connect to radios, smart devices, land, maritime and air platform intercoms. Patented Invisio Intellicable™ technology provides seamless plug and play integration between the control units and the connected radios, intercoms and headsets allowing for the deployment of new equipment without the need to update existing equipment.
Meanwhile, a suite of sophisticated hearing protection headsets help protect soldiers from potentially damaging impulse and continuous noise found during mounted and dismounted operations. One of the innovative headsets in the Invisio range incorporates the use of bone conduction technology instead of traditional sound wave detection, where a small in-ear microphone picks up vibrations from the user's jawbone. This means when speaking, even whispers are converted into sound, providing crystal clear communication and enhanced situational awareness. Shane Knight, Managing Director of MCL said:
"We are greatly looking forward to demonstrating the Invisio intercom system to visitors to the DSEI exhibition. As the sole UK suppliers of the system, we are proud to bring this advanced and flexible technology to market.
"Being able to hear and communicate effectively can be the difference between life and death. By offering a seamless transition between land and platform operations we are reducing the burden on the soldier and simplifying the MMI, enabling soldiers to focus on their operational role."
For more information visit https://www.marlboroughcomms.com/