MCL AND IAI awarded UK MoD Theseus contract
Published 28th February 2022
Marlborough Communications Limited (MCL) and its technology partner Israel Aerospace Industries (IAI) have been awarded a contract to deliver demonstrations of their highly-automated ground and air resupply network, providing innovative capability based on the latest autonomous technology as part of Project Theseus. This contract with Future Capabilities Group within the Ministry of Defence is the second contract win for MCL and IAI, and further cements the positive relationship between the two organisations.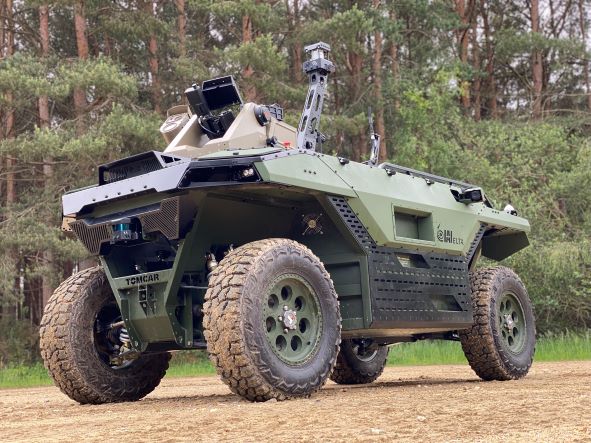 Through Project Theseus the UK Ministry of Defence (MoD) aims to investigate the potential to apply autonomy to the ordering, planning, and delivery of supplies as well as the ability to increase the flow and efficiency of delivery on the battlefield. This will see MCL and IAI define and deliver an end-to-end, highly automated ground and air resupply network, which is enabled by a logistics information system and operational 24 hours a day, 7 days a week in all conditions. The capability will be facilitated by land and air robotic and autonomous systems (RAS), a mission planner, battlespace management applications and logistics information system to provide tactical last-mile resupply to dismounted forces.
The resupply network will incorporate the REX MK-2 uncrewed ground vehicles to provide robust and reliable means of autonomous delivery, as well as uncrewed aerial vehicles and a mission management command control system with autonomous decision-making capability. The solution will also be tasked through a human-portable user interface system, enabling operator intervention if required. The two companies will also have to deliver improvements to the system throughout the contract, with the improvements and final demonstration taking place in early 2022.
Shane Knight, Managing Director, MCL, said:
"We're proud to be working in partnership with IAI to deliver this innovative capability demonstration to the MoD as part of Project Theseus. Our combined expertise and knowledge of robotic and autonomous systems are crucial to the creation of the ground and air resupply network. This contract is a clear demonstration of the strength of our partnership with IAI, which we are confident will continue to grow and strengthen throughout the delivery of the Theseus project. It also solidifies our position as a major contractor to the UK MoD."
Boaz Levy, President and CEO of IAI, said:
"IAI looks forward to cooperating with MCL to provide this demonstration to the UK MoD as part of Project Theseus. Together IAI and MCL have a superior combined knowledge of autonomous land robotic systems to support advanced ground and air resupply networks. This cooperation with MCL further demonstrates the strength of IAI and the UK defense industries' collaborations. IAI is proud to collaborate with our UK partner, to supply advanced combat solutions, and further the company's presence in the region as part of our overarching strategy."
MCL and IAI were recently awarded a contract to deliver Robotic Platoon Vehicles (RPVs) to Spiral 2 of the UK MoD's RPV Experimentation Programme.
For more information on MCL, please visit: http://www.marlboroughcomms.com/
About Israel Aerospace Industries:
IAI is a world-leading aerospace and defence company that is well known for delivering state-of-the-art military and commercial technologies in Space, Maritime, Land, Air and Cyber/Electro-Magnetic environments. Combining the "Start-up Nation" spirit of innovation with decades of combat-proven experience, IAI provides customers with customised, leading-edge solutions to the unique challenges they face including satellites, UAVs, missiles, intelligence solutions, weapon systems, air defence systems, robotic systems, radars, business jets, aerostructures, and more. Established in 1953, IAI is one of Israel's largest technology employers with offices and R&D centres' in Israel and abroad. For more information, visit https://www.iai.co.il/
IAI's Land Division demonstrated its latest developments on an autonomous Ground Combat Vehicle (GCV) equipped with a full suite of situational awareness, target acquisition and force protection sensors, ECM (Electronic Counter Measures) and weapon stations to the Israel Defense Force (IDF) and the Israel's Ministry of Defense. IAI's Land division provides a full spectrum of tactical radars, autonomous solutions, and fused active and passive sensors and systems to provide multi-mission solutions, including Counter Rocket Artillery Missile (C-RAM), Counter Unmanned Aerial Systems (C-UAS), Ground Based Air Defense (GBAD), Counter IED and mines, situational awareness, surveillance and reconnaissance, and border, coastal and site protection.
Contact:
Dafna Ravitz, IAI Communications Manager, dravitz@iai.co.il 972-52-4677010
Ellie Neustein, IAI International Media Supervisor, eneustein@iai.co.il 972-54-3516414

---
To speak to us about this press release or give us feedback, please contact us.