Cohort welcomes Reading MP and Minister Alok Sharma
Published 30th July 2021
Cohort Plc, the Theale-based independent defence technology company, was pleased to welcome government Minister and Member of Parliament for Reading West Alok Sharma MP to its offices, to discuss government support for growing technology businesses.
Alok Sharma MP, also President Designate of the UK's COP26 environmental conference, was greeted by Simon Walther, Cohort's Finance Director, and Raquel McGrath, Company Secretary, at the company's head office at Arlington Business Park. Chief Executive Andy Thomis joined by video conference from his home, due to COVID-19 self-isolation requirements.
The conversation focused on Cohort's recent progress and key developments, its growth plans and the role of government in supporting growing businesses and helping them navigate new industry regulation.
Andy Thomis commented:
"It was a pleasure to welcome Alok and it was helpful to discuss how regulation can affect growing businesses. We would like to thank him for his time and wish him well for the climate summit, COP26, in November."
Speaking after the meeting, Alok Sharma MP, said:
"I was delighted to visit Cohort and meet Andy, Simon and Raquel. It was very interesting to learn more about the defence technology sector and hear about Cohort's impressive growth over recent
years".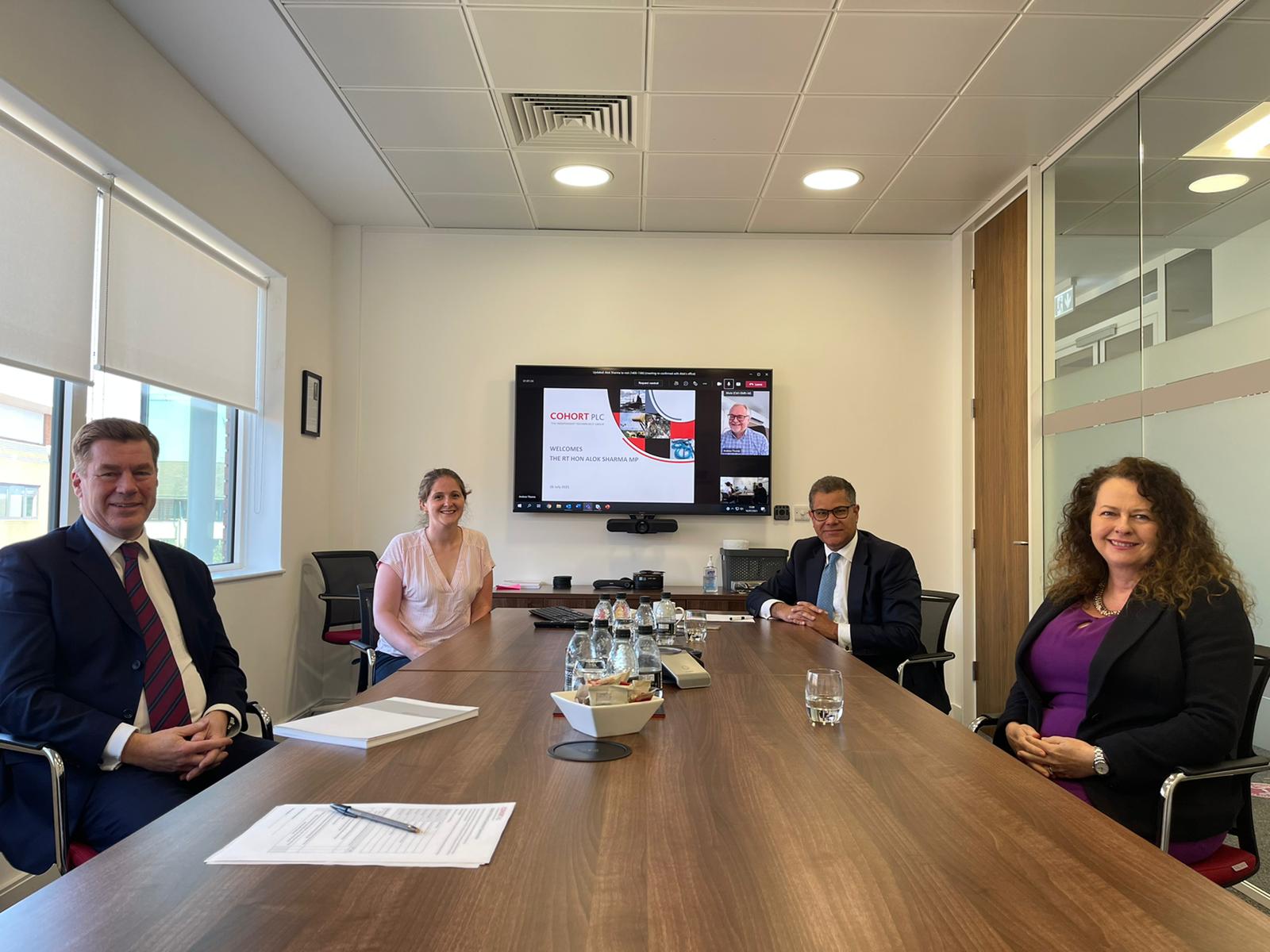 Image L-R: Simon Walther, Cohort Finance Director, Jessica Inns, Chief of Staff Alok Sharma, Andy Thomis Cohort Chief Executive (on screen), Rt Hon Alok Sharma MP, Raquel McGrath Cohort Company Secretary
Cohort plc is the parent company to six defence and security SMEs based around the UK, and in Portugal and Germany. The Group provides leading technologies ranging from maritime systems including sonar and communications, to land and security capabilities including surveillance systems, counter-drone technology and hearing protection. It supplies its technologies to the UK armed forces as well as many allied countries worldwide.
---
To speak to us about this press release or give us feedback, please contact us.